How to improve your Language School Marketing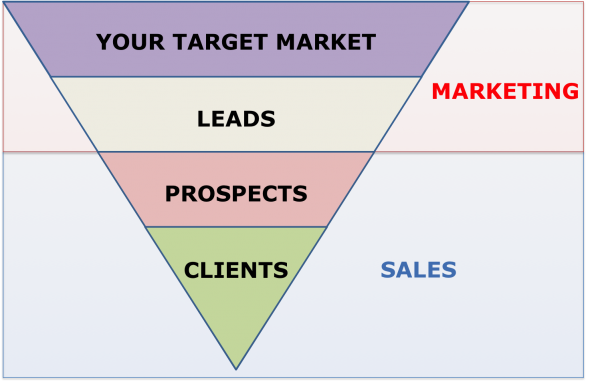 Some concrete tips to help market your language school
Nowadays, competition to get new learners in your language school is more and more fierce. It is increasingly rare for people to phone up out of the blue and ask for information. Good marketing has become essential to attract potential learners to your school. This article will provide you with some good tips to help you.
First of all, you need to understand what marketing actually is. Too often, we assume that marketing is about increasing the awareness and visibility of your language school in your market. People think of public relations, press releases and advertising: areas of marketing that have little or no scope for return on investment. This is not what I advocate. A good marketer understands that he or she is there to attract contract leads to the school. Have a look at the graphic above.
A lead is someone who is genuinely interested in the service offer your school is making, whether it be simple group or individual classes, or some blended learning package that is a lot more complicated. Once you are in contact with the lead, it is then up to your salesperson (it doesn't have to be a real sales professional, but at least someone who fully acknowledges their role as the person looking after inscriptions) to convert that lead into a prospect.
A prospect is someone with whom you have had contact (a telephone conversation, a face to face meeting or email exchange), and has confirmed that they are interested. Obviously, it is then a matter of time until you convert the prospect into a client.
So how does a marketer in language training get leads? Here are a few, simple tips:
Create a unique offer: I often explain to language schools that the lessons you teach are not what you should be proposing to your prospects. All language schools propose them. You need to make them different by creating a solution that meets the need of a particular market. For example, if you are a specialist in legal English, you could create a package called "Legal English Extra", that blends a legal English test, individual lessons, online vocal lessons and certified exam. This differentiates you and is easy for the prospect to understand what you do and why you are different.
Build a subscriber list: obviously having a web site is important. And ensuring that people find it is even more so. But this is not new. What is important is that you will have many people visit your website because they are potentially interested in your school, but they might not contact you. What is important is that they remain potentially in contact with you through subscribing to your newsletter. Every time anyone contacts you, whether it be through the web, telephone, drop-in, telephone selling, etc. you must make it a priority to recuperate email addresses and add them to your subscriber list. And then you need to regularly contact these people with interesting, value-added emails: exercises, articles, tests, promotions, etc. There are also ways you can put on your site to offer something in exchange for their email address (for example, free online test, white paper, video, free lesson). You see, prospective learners and decision makers can sometimes take up to 2 years to decide to take lessons. And when they do, you need to be there.
Use different marketing techniques: a language school now has several ways it could promote it's services. It is important to use a few because it adds credibility to your offer if a prospective student sees your name in different areas. Apparently, it can take up to 7 times for someone to decide to work with you. Obviously, 7 emails will annoy them. So you need to mix it up. In language training, the most successful ways to market are paper catalogues, telephone selling, a strong and content filled web site, newsletters and social media. Don't try too many, but master the ones you do use.
Get partners: language immersion schools traditionally sell through agents. However, local private and business language schools often don't have that possibility. It can be a very powerful and quick way to establish partnerships with like-minded companies and people who promote your offer. For example, governmental bodies, other HR experts, business clubs and associations. You can offer commissions, but the most important thing is to provide a very high quality service. No partner wants to lend their name to a service that might damage their reputation.
Use your current clients and learners: your current client list is possibly the strongest way to develop potential leads. You could use satisfaction questionnaires or interviews, discounts on future courses if a referral comes from a current client, or even a reward scheme. What is important is to ask. If you don't, they won't realise you're looking for other clients. Be open and honest, say you'd love to know if your student knows anyone else who might be interested. And don't forget to keep them informed if you make any progress!
So there you are, 5 strong tips that you need to consider carefully. I hope you've enjoyed this article. If you need more advice, then just contact us and I'll see what I can do.
Lleave a comment if you have a remark, idea or question for me or other people who will read this article. Sharing is educating!
https://linguaid.net/wp-content/uploads/marketing-e1389551185841.png
382
600
Joss Frimond
https://linguaid.net/wp-content/uploads/logo-linguaid-2017-uk-small-230.png
Joss Frimond
2013-12-15 19:53:06
2014-08-05 07:10:03
How to improve your Language School Marketing